"Tribal Label" distorts African conflicts
How the word tribe stereotypes Africa
Out of Africa: Western media stereotypes shape images
Talking about "Tribe" moving from stereotype to analysis
Libya, Uprising, Revolutions and future of Africa and Arab world
Looking at the continual peoples' uprising and revolution in Libya inspired by the protests across North Africa and Middle East.
Truth Dispatch: Update from Libya
Algeria's Impact on French Philosphy: Between poststructuralist Theory and colonial practice
Sudan the conflict is inflaming every hour
Maghreb Uprising: Truth is impossible to find
Libya: Nato's war of Agression a soviergn African state
Faith and Politics of Terrorism
Six killed as Libyan fighters clash in Tripoli
Eye On Tawergha: Ghost Town created by Ethnic Cleansing
Libyan NTC fighters acting as vigilantes against Tawergha blacks
Ethnic Hatred Taints Liberated Libya
Ethnic Hatred Taints Liberated Libya longer
Gaddafi's ghost town after the loyalists retreat
Libya militia 'terrorises' pro-Gaddafi town of Tawargha
Tawergha no longer exists, only Misrata
GENOCIDE, RACISM, ETHIC CLEASING of TAWARGHA - CRIME AGAINST HUMANITY by NATO's darling REBELS in LIBYA
Libya–The Racist Revolution–Tawargha
Battle of Misrata
Inside Story: Battle for Misrata
Tawargha-convoys trying to invade Misurata-at start of revolution
In Libya no exams for rebel children
Mauritania to protect domestic servants
Fez scared music Festival celebrates wisdom
"No More Fear" documentary debuts in Tunisia
Mawazine celebrates confluence of cultures
South Sudan, Sudan and history of Nations
One of the largest African countries along side the D.R. Congo, Sudan is a country of multiethnic, cultural and languages. It is also historically signifcant for being the home of several Ancien African kingdoms ie Nubia, Moroe and part of Ancient Egypt and Nile civilizations. First ruled by the Egyptians, than briefly by the Ottoman Empire in 19th Century, Sudan was later colonized by the British. British rule in Sudan was meant to keep control of European trade benefiting the British Empire along the Nile, Suez Canal and Eastern African countries. The country's two main regions the North and South were ruled according to ethnic and language differences and closest neighbors. North Sudan was influenced by Egypt, Arab Islamic culture and languages while South Sudan's influencs came from Eastern Africa ie language, religion and culture particulary Kenya, Uganda, Ethiopia. British rulers of Sudan played the differences against North and South Sudan during colonial rule in 19th century until the country gained independence in 1957. North Sudan was tied to Egypt and Arab World while South Sudan was tied to Eastern Africa. When the country became independent in 1957, the British pulled the two ethnic, religious and cultural regions together to form the nation of Sudan. A 21 year old Civil War beginning in 1970s, Desertification in Darfur beginning in 1970s and current war in Darfur has brought Sudan to the attention of the world. South Sudan was granted the right to vote for independence and seccedded from North Sudan on January 9, 2011. If the referendum is successful, South Sudan will be Africa's 54th African nation. It will also create a reference point for future autonomous regions and ethnic groups in various African countries to demand independence.
Slave Trade and African Holocaust
12 Million killed during the 18th-19th centuries alone while traveling the dreaded Atlantic Middle Passage...
The West wants Africans to "move on" and "get over" slavery, colonialism, discrimination and poverty in African countries and diaspora. But how can one forget all of the above if negative stereotypes through jokes and pop culture toward African countries, Africans and diaspora belittles Africa and diaspora's cultural diversity, pan african identity and solidarity, ignores ordinary Africans seeking to revive Pan Africanism, ignores any positive news on African countries and dehumanizes African culture with jokes?
Ethiopia and Liberia: Where colonialism made a U Turn and crashed
Both countries were never colonized by Europeans
2011 Elections Test Peace in Liberia
Korto Momolu returns home to Liberia pt 1, fashion designer
The Inventors of the World languages
The written languages of Ethiopia, Liberia and Berbers. Despite the long held believe due to colonialism and eurocentrism that Africans had no written history or language, many unique alphabets have been created throughout the centuries denying this stereotype. Among the most well known and surprised are the Bassa vah, Vai, Loma, Kpelle and Mande alphabets of Liberia, Ge'ez alphabet of Ethiopia the most ancient non-Egyptian script known to Europeans and many other alphabets used for various ancient languages across the motherland.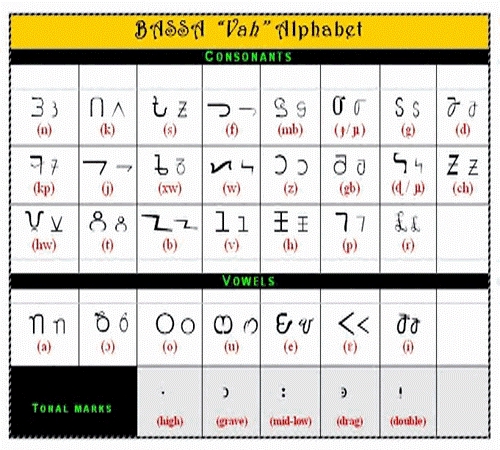 Ethiopia Jewel of Africa
African art, history and culture
Contrary to popular belief all 53 African countries do have a history, culture and hertiage that predates Europe, colonialism and slavery by thousands of years. To justify colonialism, slavery and African Holocaust, Europeans in both Europe and United States denied and ignored African contribution to world civilization (Ethiopia being the birthplace of Humanity, Egypt one of the first countries to have a recognized monothesis religion, Mali also the first country to built libraries and universities), across the continent to prove the old stereotype that Africans could not have built great societies or languages without the help of some outside force (some even like to say aliens or forces from beyond Earth might've built the pyramids of Egypt, Moroe and Sudan even when common sense proves otherwise) their own before the arrival of Europeans nor was African history, culture and art worthy of being considered as one of the non European contributors or corner stones to Western civilizations (like Mesopatamia, Phonecians, Persians, etc) with the exception being Egypt. Over the decades of course the old damaging stereotype of Africa as a dark continent without culture has greatly changed. And today African countries such as Mali, Ethiopia, Egypt, Sudan, South Africa, the Maghrab countries, etc have earned respect and recognition for their incredible ancient monuments such as the Obelisk of Axum, sculptures, libraries, universities and literature.
Italy to return obelisk of Axum to Ethiopia
The Africans: A Triple Heritage, Dr Ali Mazrui 1 of 4
The Africans: A Triple Heritage, Dr Ali Mazrui 2 of 4
The Africans: A Triple Heritage, Dr Ali Mazrui 3 of 4
The Africans: A Triple Heritage, Dr Ali Mazrui 4 of 4
On Stolen African Art and Old Europe's Curative Affront
Battle for the return of stolen African Art
Africans need African cultural objects more than Americans and Europeans
Stolen African Art posses and revolutionises Western Creativity
British Colonial War Crimes during Mau Mau Revolution whitewashed
Ancient Rome conquered by Africans?
Ignoring Occupation is proud to present to the viewer a history of African countries and cultures.
Africa ep 1: Different but Equal
Renown African historian Basel Davidson provides the viewer with the rare respect for the political, cultural and general history of various African countries in the documentary series "Africa." The documentary reminds the viewer that Africans have their own history and civilizations and were makers of history and introduced the world to some of greatest civilizations surpassing the triumphs of Rome and Ancient Greece. Traditional European history.
Africa ep2: Mastering a Continent
Africa ep3: Caravans of Gold
Africa ep4: The King and the City
Africa ep 5: The Bible and the Gun
Liberian Civil War 1989-2003
Liberia: Murder of a Country
The Promised Land-American Involvement in Liberia
Between War and Peace in Liberia
Haiti: Always the defiant one
Haiti-A history of intervention, occupation and resistance
Haiti will defend its Sovereignty pt. 1
Haiti will defend its Sovereignty pt. 2
Haiti will defend its Sovereignty pt. 3
Afro-Latina Presence
Peru's Minorities battle Racism